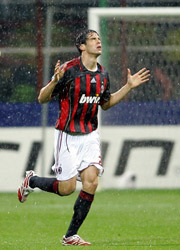 Milan's Brazilian playmaler Kaka has been named Europe's footballer of the year after winning France Football magazine's Golden Ball award.
The 25-year-old was instrumetal in Milan's Champions League triumph this year.
"This is very special for me – it culminates an astonishing year for me," Kaka said.
Second place went to Manchester United winger Cristiano Ronaldo with Barcelona's Lionel Messi placing third.
The prestigious award was voted for by 96 international journalists from a shortlist of 50 players.
Kaka succeeds Italy's World Cup winning captain and defender Fabio Cannavaro and comes two years after the last Brazilian winner of the trophy, Barcelona's Ronaldinho.
"It's the top prize around and the only way to win something like this is to play for a team like Milan," he said.
"It's great to be part of a team that wins.
"I won the Champions League and was the competition's top scorer. That's what made the difference with the others.
"That is the key. You have to play in a winning team."
In October Kaka was named FIFPro world player of the year, and he is also the favourite to win the World Footballer of the Year award from football's governing body FIFA later this month.