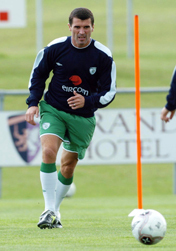 Speaking ahead of France's eagerly-awated World Cup qualifier with the Republic of Ireland, Thierry Henry has denied suggestions that Irish captain Roy Keane is a 'thug'.
The Arsenal striker has encountered Manchester United skipper Keane on a number of occasions in the Premier League.
Henry is full of admiration for his opponent, describing Keane as a "football legend".
"People often talk about Roy Keane as if he was a hooligan, but the lad knows how to play football," Henry told The Sun.
"Yes, he is aggressive. Yes, he is cantankerous. Yes, if the ball is between him and you in midfield, he makes you jump.
"But beyond that, he is a super footballer. He scores, he influences his team and the crowd.
"He'll be respected for ever. He is a football legend with Republic of Ireland and Manchester United."
France go to Lansdowne Road knowing defeat could hinder their chances of winning a closely contested Group Four.