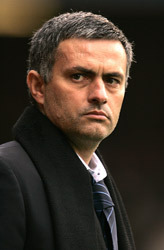 Chelsea chief executive Peter Kenyon has dismissed reports of a rift with manager Jose Mourinho as "fabrication".
There had been a suggestion in the British press that the pair had fallen out over transfer targets for next season, but Kenyon denied the story.
"I am 100% happy with him," Kenyon told BBC Radio London.
Kenyon, speaking on a trip to China, also denied that Chelsea were looking to exploit foreign markets because they were losing support at home.
"There is absolutely no evidence of that," he added.
"We have seen our fan base go up by 300% in the last two years.
"We have been looking at research in China, which shows we are as popular as Manchester United, whereas two years ago we were not even on the same radar scope.
"I think the importance of having a successful team is critical to all this and we are going in the right direction on that front.
"China is one of our key strategic markets. London is one, north America and China are the other two. This is a long-term market, it is not a quick fix."
Kenyon is in China as part of a team hoping to develop contacts between Beijing and London ahead of the 2008 and 2012 Olympics.
And the Chelsea man revealed that Chelsea have offered the China national football team the use of their facilities ahead of the 2008 games.
Kenyon said: "The fact Chelsea has been appointed an ambassador to London was the perfect opportunity to cement our relationship.
"We have offered them the use of the training facilities at Cobham for their Olympic team prior to 2008.
"Discussions are continuing over the next few days. In the next 12 months the developments at Cobham will give us one of the best training facilities in Europe."
Subscribe to World Soccer – The essential football magazine.