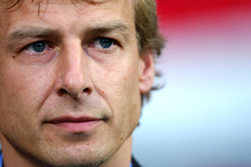 Germany coach Jurgen Klinsmann has asked for more time to decide his future – as he played down claims that he could be in line to become the next coach of the United States.
"It is not a question of my terms of reference or powers – it is family," said Klinsmann.
"I have had no contact or interest at all from the United States."
Klinsmann led the hosts to the semi-finals before they were knocked out by Italy and his success has convinced the German public that he is the man to lead the country into their Euro 2008 campaign.
However, Klinsmann remains undecided about his future plans.
"Please spare me more questions about my future because that fact will come after the event, as I have said umpteen times," he added.
"I love receiving those compliments more than getting stick about not living in Germany.
"I have to discuss these matters with my family, but I am just happy to see a team in place that is positive and has every right to be positive.
"There is no denying that there will be a lot of work still to be done, but the team will go down the right road using that philosophy."
Klinsmann also defended national captain Michael Ballack after criticism of his World Cup performances.
"Michael Ballack has a very important role. He has literally filled out his role of captain at the World Cup.
"He has great strength and we speak of him with the greatest respect.
"He didn't play in the first game against Costa Rica and didn't train for a week and he was trying to find his rhythm.
"I think the Argentina game was the best possible example of the character of Michael Ballack.
"He was plagued by cramp and left the pitch, but he wouldn't be substituted and only left the field after the game was decided."