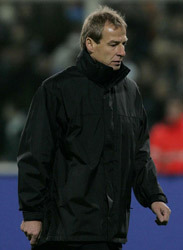 Germany's faltering World Cup build-up received another setback with a 4-1 defeat to Itraly in Florence, leaving the hosts looking far from contenders for ths summer"s finals.
However, despite the resounding defeat Germany coach Jurgen Klinsmann insisted that nothing much should be read into the result.
Klinsmann remains confident that there is still plenty of time to turn things around.
"Obviously we're a bit down right now, but it is better that something like this happens now instead of during the tournament itself," he said.
"You have moments when things go in the wrong direction; and tonight it all went in the wrong direction.
"We're not worried. We're still 100 days from the start of the World Cup, and we have two and a half weeks immediately before it starts to iron out all the technical and tactical problems."
"This is a young team, a talented team, but it lacked a bit of experience," he added.
"We made too many mistakes, gave away too many balls. We conceded two goals on the break and unfortunately couldn't react. We couldn't put Italy under any pressure.
"My compliments to Lippi and to Italy. They gave us a footballing lesson tonight."
Klinsmann's optimism was not shared by team captain Michael Ballack.
"Nothing worked," the Bayern Munich midfielder admitted.
"We weren't aggressive enough, we quickly went behind two-nil and after that Italy could just play their own game.
"It's a step backwards. Now we will have to work very hard to make sure we are ready in time for the World Cup."
For Italy coach Marcello Lippi, Wednesday's win was Italy's most convincing performance since he took over as coach in August 2004.
Asked whether their performance had left him with a dilemma over whether to bring the missing Francesco Totti back into the starting line-up, Lippi replied: "It doesn't matter which players I field.
"The only thing that matters is that they put in the effort once they get there.
"With Francesco up front we play in a slightly different way, but with or without him we've got an attack that can create problems for any team out there."
"Forget the scoreline. That's not the important thing," said Lippi. "The most important thing tonight was Italy's performance — the players' calmness, work rate, desire to chase every ball.
"We're very happy with a good night's work. Now we need to keep growing and improving as a team between now and the start of the World Cup."
Subscribe to World Soccer – The essential football magazine