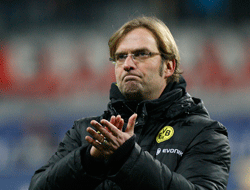 It's Chelsea v Man Utd on Tuesday night – see the best odds on EVERY market here…
"It doesn't get any better than this," said Borussia Dortmund's coach, Jurgen Klopp, moments after his young team had beaten reigning champions Bayern Munich, 3-1.
"It was a huge day for us, because people were watching in 198 countries," Klopp said Saturday. "We wanted to play a special game, and we did that.
"The last time Dortmund won in Munich, our captain, Sebastian Kehl was 11, and the rest of the boys were still being breast-fed.
"We are hugely satisfied. The boys have put in an incredible amount of work today but without that it wouldn't have panned out as it did."
Lucas Barrios gave Dortmund the lead on nine minutes, only for Bayern to level seven minutes later through Luis Gustavo.
However, the visitors were back in front within through Nuri Sahin before Mats Hummels' goal on the hour mark sealed the points.
Dortmund now stand 16 points clear of Bayern and 12 clear of second-placed Bayer Leverkusen.
Bayern Munich coach Louis van Gaal believes Borussia Dortmund's ability to score when it mattered proved to be the difference.
"Dortmund managed to score goals at exactly the right time," he told Sky. "We dominated the game in the second-half but we could not score at the decisive moments.
"The first goal we conceded was due entirely to individual efforts on our part. However, Dortmund also capitalised on this."
Bayern slipped to fourth in the table as a result of the defeat andthey now face a battle on their hands to ensure Champions League football next season.
With the 2012 Champions League final due to be staged at Munich's Allianz Arena, failure to even qualify for the competition would be a major setback and chairman Karl-Heinz Rummenigge says they must focus all of their efforts on ensuring that does not happen.
"Leverkusen are three points above us, Hannover two – it is not going to be a walk in the park," he said. "We are going to have to push ourselves immensely to reach our goal."
It's Chelsea v Man Utd on Tuesday night – see the best odds on EVERY market here…
Take advantage of the sales by saving up to 36% on a subscription to World Soccer