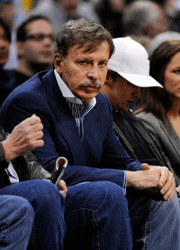 Chelsea are a best price 11/4 to qualify as they head to Man United 1-0 down for their Champions League 2nd leg…
Stan Kroenke has confirmed he has increased his stake in Arsenal to 62.89% as he embarks on a takeover of the club.
The American, who already owned 29.9% of the club, has agreed deals to buy shares owned by Danny Fiszman and Lady Nina Bracewell-Smith.
The deal sees Kroenke acquire the 16.1% owned by Fiszman and Lady Bracewell-Smith's 15.9% stake to increase his holding to 62.89%.
As a result of passing the 62% threshold under stock market rules, a takeover bid would be triggered and he has agreed terms for the purchase of the remaining shares which values the club at £731million.
Terms have also been agreed for Kroenke Sports Enterprises to buy up the remaining share capital at a cost of £11,750 a share.
Kroenke said in a statement to the Stock Exchange: "We are excited about the opportunity to increase our involvement with and commitment to Arsenal.
"Arsenal is a fantastic club with a special history and tradition and a wonderful manager in Arsene Wenger.
"We intend to build on this rich heritage and take the club to new success. I am delighted that Peter Hill-Wood has agreed to support us by continuing as chairman.
"We especially wish to acknowledge and thank the board, Danny Fiszman and the Fiszman family as well as Lady Nina Bracewell-Smith and her family for the confidence they have had in me over the past years and in allowing us to move forward in this more prominent role."
Most of the remaining shares left for Kroenke to purchase are held by Russian billionaire Alisher Usmanov.
Usmanov does not have a seat on the Gunners board but owns 27% of Arsenal's holding company.
Arsenal heritage
Arsenal manager Arsene Wenger welcomed the news of the takeover bid.
"I have worked with Stan Kroenke at board meetings over the past couple of years and I believe he has the best interests of Arsenal at heart," said Gunners boss Wenger.
"He understands the club's heritage and traditions and our ambition to run the club in a way which protects our long-term future."
Arsenal chairman Hill-Wood, who initially opposed Kroenke's involvement in the club, also backed the takeover.
"The board of directors and I consider it a key responsibility to protect the ethos and spirit of the club," he said.
"Mr Kroenke, although relatively new to Arsenal, has shown himself to be a man who values and respects the history and traditions of this very special club that we cherish.
"We are confident that he will be a safe custodian of its future."
"At this time of transition I would like to pay particular tribute to Danny Fiszman for his immense contribution. Danny's vision and drive led the relocation to our new stadium, an historic move which will benefit the club and its many passionate fans long into the future.
"I would like to pay tribute to the important and long-standing role that the Bracewell-Smith family have played in Arsenal's history. The family have been staunch supporters of the club for over 70 years and the club is significantly indebted to them for the role that they have played in its development and success. We will be considering appropriate ways to mark this long and valued contribution."
Chelsea are a best price 11/4 to qualify as they head to Man United 1-0 down for their Champions League 2nd leg…