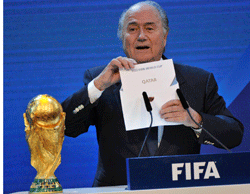 Real Madrid host city rivals Atletico in the Copa Del Rey tonight – see all the best betting here
FIFA president Sepp Blatter thinks that Spain's Primera Division is a stronger league than England's Premier League and pointed to the fact that no player based in England made it into FIFA's World XI.
In recent years, Spain has seen an influx of world-class players arrive and Blatter now says that La Liga can now claim to be the game's the top domestic competition.
"It must be the strongest league in the world," he told CNN World Sport. "And when you see the starting XI of the Spanish national team, all of them play their football in Spain. The Spanish league also has the highest number of local players."
The World Team of the Year featured six players from Spanish champions Barcelona, two from Real Madrid and three from Champions League winners Inter, but Blatter noted the absence of the usual English-based contingent.
"The Premier League is the best-marketed league in the world," he added. "It's a good league, with good players, but when you consider not one player made the best XI of the world, maybe they should think about whether something can be adapted."
Blatter also praised the 2010 FIFA Ballon d'Or winner Lionel Messi, who picked up the honour for the second year in a row.
"Leo Messi is what I identify as a wonderful football player and a good boy. He is really humble. It's not a game he's playing, he's not an actor," he added.
"When I compare Messi to Maradona, both are excellent, talented players. They could not be more talented. But the difference is their personal educational characteristics. One is still in football, modest and not trying to get into the extravaganza. The other did it."
Real Madrid host city rivals Atletico in the Copa Del Rey tonight – see all the best betting here
Take advantage of the January sales by saving up to 36% on a subscription to World Soccer