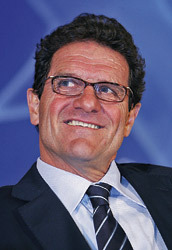 Man Utd and Arsenal affect outright betting on the Premier League Title!
New England coach Fabio Capello believes that a lack of confidence is at the root of England's recent poor performances.
The Italian will be unveiled as Steve McClaren's successor at a London news conference later today.
And he told an Italian TV station on Sunday that he believes England's players are lacking "self-confidence".
"This team have lost a little bit of their grit, a determination they showed a few years ago," he said.
"This is a big challenge and a difficult one for me," Capello told Italian television station Rai Due in his final appearance as one of their pundits after agreeing to end his media commitments as part of his new role.
"I will not guide a team on a weekly basis as you do at a club.
"Psychologically, they are a team that needs to find its confidence. I watched them play against Russia and they looked a very impersonal side when playing.
"It's a team that need to find itself and that will be my role."
Capello's first game in charge will be the friendly against Switzerland at Wembley on 6 February.
He likened the England job to his task at his last job, at Real Madrid.
"It's a little bit like what happened with me at Real Madrid when I returned this time," Capello said. "They had a team that had lost all of their characteristics and self-confidence."
The Italian admitted that he needed to work on his English, and said he was aware of the difficulties he may face at the hands of the tabloid press.
"From tomorrow, I'll learn more English. The most important thing is to get to know the atmosphere," he said.
"It's a difficult world out there, the tabloids are very aware of what goes on with the national coach, it's a delicate position and I will have to be very careful at all times.
"The most important thing is to be able to work and take this national team where it belongs."
Capello also confirmed the England role will be the last he takes on before he retires.
"It would be the ultimate to win the World Cup and then retire," he said.
Man Utd and Arsenal affect outright betting on the Premier League Title!