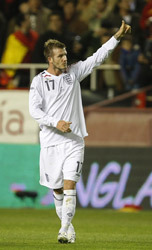 With 14 goals to his name, Dimitar Berbatov is favourite to land the Premier League golden boot this season
Former Los Angeles Galaxy manager Alexi Lalas has questioned whether David Beckham should move to England on loan.
Tottenham are seeking a temporary deal for Beckham, 35, while Newcastle and Blackburn are also reported to be keen on the former England captain.
But Lalas told BBC 5 live: "American soccer fans say David Beckham has given a lot, but he's also taken a tremendous amount out of Major League Soccer."
On Tuesday Spurs manager Harry Redknapp played down his club's chances of signing Beckham, having stated previously that Beckham wished to move temporarily to White Hart Lane.
"Weeks fly by and this month will have come and gone before we know where we are," he said. "It's a difficult one. But let's wait and see, it's not in my hands.
"He'd be great to have around the place and I'm sure he's got a lot to offer as a player and a person. As a professional, he's top class."
The Galaxy begin their season on 15 March against Seattle, and Beckham has previously used the 2009 and 2010 close-season breaks to play on loan at Milan.
But the midfielder's second spell with the Italian side came to a premature end when he suffered an Achilles tendon injury playing against Chievo in March.
A subsequent six-month lay-off ruled Beckham out of the World Cup in South Africa, while he was also a marginal figure in the Galaxy's run to the final of the Eastern Conference – starting only five regular-season matches.
And Lalas believes that without the motivation of trying to force his way into England's squad for a major tournament, another loan move for Beckham would be less sympathetically received in America.
"The reason David Beckham went over to Milan was to prepare, in theory for the World Cup," he added.
"I think that was commendable and understandable to a certain extent – but now it is happening once again."
With 14 goals to his name, Dimitar Berbatov is favourite to land the Premier League golden boot this season
Make sure you don't miss any of the last news and articles from World Soccer. Subscribe to World Soccer today and save up to 33%