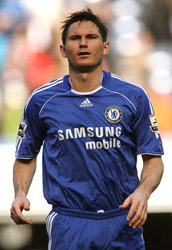 Frank Lampard has turned down the offer of a new contract from Chelsea, intensifying speculation that he could leave the club.
According to newspaper reports, the offer would have seen the England midfielder deal become the highest paid player at Stamford Bridge, eclipsing the £121,000 a week given to Andrii Shevchenko and Michael Ballack.
Meanwhile, Lampard's agent, Steve Kutner, claims that Lampard is keen to remain at Chelsea.
"The three of us [Lampard, Kutner and Chelsea chief executive Peter Kenyon] haven't had a chance to have talks," claimed Kutner. "There has never been a time when the three of us have been free as Frank has been on holiday and Peter has been away. But nothing has changed.
"Frank has always said he wants to stay at Chelsea for the rest of his career. He will join up with Chelsea's tour next week and will be as committed as ever. Nothing can get sorted out until he gets back, but there is no rush."
England midfielder Lampard, 29, has two years left on his current contract and said last week he was happpy to see out his present deal.
"They don't have to offer me anything so I'll just carry on," he stated.
However, Lampard added last month that he would have liked the club to have offered any such new deal in early June.
"In an ideal world, it would have happened three weeks ago but it is not an ideal world," he said.
"It feels strange. It is something I am trying to keep my mind off. You get on with it. I am not surprised by it because nothing surprises you in football."
The £15m-rated player has been linked to Barcelona and Juventus, who are now managed by former Chelsea manager Claudio Ranieri.
Barcelona's interest has cooled recently according to an executive at the Spanish club.
"There is no other option," he told The Guardian. "He has been offered to us, Milan, Inter and Real Madrid. Basically all of the big clubs. But none are interested. We are the same as those clubs are, we're looking for a player who is more creative and has a greater technique than Lampard. So it looks like he will go nowhere."
That may leave the door open for Juventus, with Ranieri reported to be "desperate" to sign the 29-year-old.