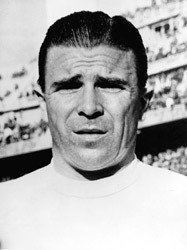 Spread Bet? If you open a Spreadex account, you'll be sent a FREE BOTTLE OF CHAMPAGNE after you have had three settled bets. Click here for offer.
Hungary legend Ferenc Puskas has died at the age of 79.
Puskas, who had been suffering from Alzheimer's disease, died in Budapest in the early hours of Friday after suffering from a fever and pneumonia.
Puskas holds a unique place in football history as the only man to play in what were arguably the two most famous games ever played – Hungary's 6-3 victory over England at Wembley in 1953 and Real Madrid's 7-3 thrashing of Eintracht Frankfurt in the 1960 European Cup final.
Puskas began his career as a junior with Kispest where his father was a coach. In 1949 the club was taken over by the Hungarian Ministry of Defence and it became the Hungarian Army team and the club was became known as Honvéd. As a result Puskás eventually became a major which led to the nickname The Galloping Major.
Puskas made his debut for Hungary on August 20 1945 and scored in a 5-2 win over Austria. He went onto play 84 games and scored 83 times for his homeland. He later played for Spain in the 1962 World Cup.
It was while playing for Hungary that Puskas first emerged on the world stage. Olympic champions in 1952, they swept aside all before them for he next two years.
However, it was in a friendly game that Puskas attracted the attention of a wider audience. He scored twice in the memorable 6-3 win over the supposedly invincible England at Wembley in 1953. To confirm that the feat had been no fluke, Hungary then thrashed England 7-1 in Budapest the following year. The victories saw Hungary installed as favourites to win the 1954 World Cup in Switzerland, but injury to Puskas undermined the Magyars and they lost in the final to Germany
Following the Soviet crushing of the Hungarian uprising in 1956, he defected to the west and joined Real Madrid in 1958 at the age of 31 to embark upon the second phase of his remarkable career. Here, along with Alfredo di Stefano he formed the most deadly partnership in the history of the game and inspired the club to string of domestic and European titles.
During eight seasons with Real, Puskás played 180 La Liga games, scoring 156 goals and helping Real win La Liga five times in a row between 1961 and 1965
Puskas played 39 games for Real in the European Cup, scoring 35 goals. He scored four goals in the club's 7-3 win over Eintracht Frankfurt in a remarkable final at Hampden Park in 1960, and in total won the European Cup three times with the Madrid side.
In all, he scored 512 goals for Real in 528 matches.
Puskas retired in 1967, going on to coach clubs in several countries, leading Greek side Panathanaikos to the European Cup final in 1971.
He finally returned to Hungary in the early 1980s with his wife Erzsebet.
"When I left Hungary I vowed never to come back. However, in 1981 they were making a film about the 'Golden Team" and I was the only one missing so I agreed to return," he said.
Puskas was voted the 20th century's fourth best player by the International Federation for Football History and Statistics.
Spread Bet? If you open a Spreadex account, you'll be sent a FREE BOTTLE OF CHAMPAGNE after you have had three settled bets. Click here for offer.