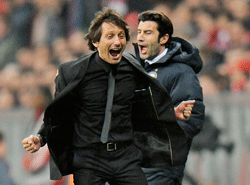 See the best odds on EVERY Champions League match in our dedicated betting centre…
Leonardo praised his Inter side after they progressed on the away goals rule in the Champions League against Bayern Munich.
The reigning champions were trailing 2-1 on the night and 3-1 down on aggregate after goals from Mario Gomez and Thomas Muller cancelled out Samuel Eto'o's opener, but after Wesley Sneijder made it 2-2 a Goran Pandev strike two minujtes from time secured a dramatic victory.
Brazilian head coach Leonardo insists that team spirit was the key to their success, although he admits they rode their luck at times as Bayern controlled the first half.
"To explain this contest would be truly difficult," he told Corriere dello Sport. "The difference was our heart.
"We prepared very well for the contest and we found ourselves quickly ahead. Then it became complicated and it was all Bayern.
"After their equaliser we have tried to play at a delicate psychological moment and we conceded another goal.
"Skill was the key to our recovery. We managed to recover without losing our heads. We stayed calm and tranquil.
"Pandev? He scored a goal that Maradona would have been proud of at a time that has not been so good for him.
"I can't take any credit for this. The team spirit was always here otherwise they would not have been able to achieve this result.
"This is a historical result because we have done it in the Champions League, but it's the same spirit we've shown in the championship.
"We risked so much because we were unbalanced. We did well to be in the match, even at difficult times, although there was much luck of course."
Vanquished Bayern coach Louis van Gaal said his players had thrown away a game they should have won.
"We wanted too much, which is a pity," he said. "It's not the first time this has happened: four or five times already this season we have given away a match we should have won and today it happened again.
"We could have settled matters earlier. Instead Inter are still standing, still have a chance – even if they hardly created any tonight, they did convert them. That's always a possibility in football.
"At half-time I told the team that we needed to stay compact and we created many chances even after that. We had one situation where three Bayern players were advancing on one Inter defender and we should have capitalised. Afterwards, we should have stayed compact, but we didn't and ran into trouble. That's what I meant when I warned them not to want too much. We made too many defensive mistakes, conceded too easily.
"The players gave their all, which is the criterion for a coach to judge if he is still getting through to the team. They enjoyed the match and so did the fans; now we are all disappointed we lost but we witnessed a good match."
See the best odds on EVERY Champions League match in our dedicated betting centre…
Take advantage of the sales by saving up to 36% on a subscription to World Soccer