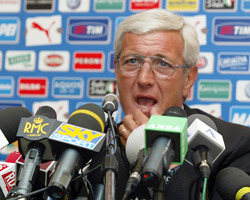 Marcello Lippi, coach of the Italian national team, has been given a vote of confidence by the head of the Italian Football Federation amid calls in the press for him to stand down.
"I have total and full confidence in Lippi," federation emergency administrator Guido Rossi told reporters at Italy's pre-World Cup training camp.
Magistrates spoke to Lippi on Friday as part of the investigation into allegations surrounding his former club Juventus.
Lippi denied last week that former Juventus general manager Luciano Moggi, who is at the centre of match-fixing allegations, influenced Lippi's selection policy for the national team.
Lippi's son Davide is also an agent at the GEA players and coaches management agency being probed by authorities.
Politicians and newspapers called for Lippi to resign before the World Cup in Germany which starts on June 9 as a gesture to improve the public's confidence in Italian football.
But Rossi said that was out of the question.
"I have never had any doubt about his position – it would have been a total folly to put the blame on Lippi and avoid the people really responsible for this situation," said Rossi.
Rossi expressed hope that "a first signal of renewal and cleansing from the evil that has got through Italian soccer can start with this team led by Lippi."
Meanwhile, Lippi has again declared his innocence.
"Let me be clear once again for the final time – I have never had an agent in my life, I have never had a relationship with GEA. My son has never been my agent," said the Italy coach.
"I have had a rapport with Moggi and other people in football but I have never received any pressure.
"This is the last time that I will deal with these matters and from this afternoon I will think only about the team and the World Cup," he added.
"I've read a lot of things in the newspapers that have shown bad faith and I will be sueing soon," said Lippi.
Italy, one of the pre-tournament favourites, play Ghana, the Czech Republic and the United States in Group E at the World Cup finals.