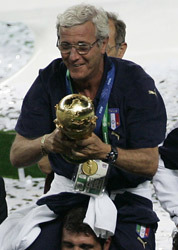 Marcello Lippi admits he is no hurry to return to management, a year after guiding Italy to their World Cup triumph in Germany.
Lippi took a break from coaching after the victory over France and even snubbed the chance to return to Juventus.
"I still haven't taken a definite decision. I have had many calls, from at least 10 clubs, some from abroad," Lippi told the Epolis Milano newspaper.
"The time to return to the bench and the pitch will come, soon. But I will never be able to forget this long year of magical and unique feelings."
One reason for Lippi's self-imposed break is that his son Davide is facing a criminal trial over his involvement with troubled sports management agency GEA.
Lippi also offered sympathy to compatriot Fabio Capello who was sacked by Real Madrid after one season despite leading them to the Spanish title.
"Fabio did an extraordinary thing given the very difficult atmosphere," he added.
"Unfortunately the decision to change coaches had already been taken by the Madrid club. But it is a choice I do not understand. Capello deserved to continue."