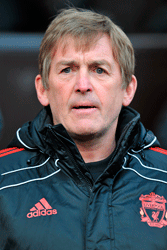 Dan Billinghurst looks at the Premiership title market and thinks Man United are worth laying at this stage…
Liverpool chairman Tom Werner insists Kenny Dalglish will be provided with funds to strengthen his squad.
Dalglish has been put in charge for the rest of the season at Anfield following the sacking of Roy Hodgson this month.
"I would we devastated if we didn't see some improvement," Werner told BBC Sport. "We've identified some targets and hope we will be successful.
"I expect progress, we've resources to improve, we're not driven by spending, but our team needs to get younger."
The appointment of Dalglish, who made 355 appearances for the club and managed the team from 1985-1991, was popular with the Liverpool fans, who had become disenchanted with Hodgson.
Dalglish began his new spell with two defeats and a draw but Werner said: "We feel very confident we're making progress. There's not an overnight success, our squad has been inconsistent and we expect to improve it short term.
"Kenny's got many of the qualities we've looked for in a manager, he has the confidence of the players and we'll start to see better results."
Hodgson was dismissed after less than six months at the Liverpool helm having won only seven of 20 league matches.
Werner said: "He may not have been the right man for Liverpool at this time.
"We felt we needed to change. We handled it with dignity, I think quite highly of him and we all take some responsibility for what has been an inconsistent season.
"We were aware of the fans point of view – in a perfect world we wouldn't have had to make the change but we're in a results business."
Dan Billinghurst looks at the Premiership title market and thinks Man United are worth laying at this stage…
Take advantage of the January sales by saving up to 36% on a subscription to World Soccer