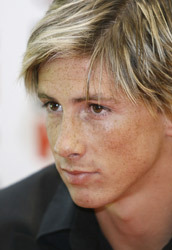 Liverpool chief executive Rick Parry, who has overseen a £40m transfer outlay this summer, has hinted that the club may continue spending.
The Anfield club have spent more than £40million on the likes of Fernando Torres (right), Ryan Babel, Lucas Leiva and Yossi Benayoun.
With over a month to go before the transfer window slams shut, Parry has refused to rule out any more new recruits arriving at the club.
"A lot of clubs have spent significant amounts of money this summer, like Manchester United, Tottenham and Chelsea," Parry told the club's official website.
"Then there are a number of other clubs who have recently also had new investors, such as Newcastle, and there's still a long way to go before the end of the transfer window.
"If a player becomes available and he's the right player for this club then yes, we will be interested."
Parry admits that the new arrivals have created a buzz around the club.
"There's always a lot expectation but there's definitely a special buzz about the upcoming season," added Parry.
"We're all excited with the new signings we've made and genuinely happy with what we've done.
"It was important to get them in as early as possible so that Rafa could have more time working with them. Bringing players in on the last day of the transfer window is never ideal.
"It was good for our new players to have been involved in the training camp out in Switzerland and then in Hong Kong."