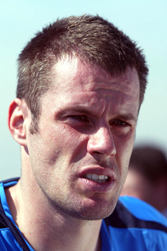 Fancy a free bet on the Grand National this year? easyodds are giving away £5 free bets on the 2008 National. Click here for more info!
On the eve of the club's most important game of the season Liverpool defender Jamie Carragher has admitted that the team is simply 'not good enough'.
The Reds, who have experienced a dip in form in the Premier League, were knocked out of the FA Cup by Championship side Barnsley at Anfield on Saturday.
Carragher, 30, said: "I wouldn't call it just a bad spell – it's been longer.
"We realise we are not playing well enough. It's not a matter of putting your finger on one reason. It's simply because we have not been good enough."
Liverpool face Italian champions Internazionale in a Champions League knockout match on Tuesday in a game that may determine the future of manager Rafa Benitez.
Liverpool have picked up only eight points in seven league games leaving them in fifth spot, 19 points adrift of leaders Arsenal and three points behind Everton in the battle for the fourth Champions League qualifying spot.
Carragher added: "We've still got Europe to play for and we have to fight for that fourth place, so every league game is going to be important. We have to make sure we are in the Champions League next season.
"At every club there are ups and downs but we realise we are going to get a lot of criticism in the next few days – and rightly so," stated Carragher.
"We've got a massive game coming up against Inter, so we are going to have to get over this because the Champions League is massive for us now.
"It's the only thing we have left that we can win."
Benitez, who has taken Liverpool to two European Cup finals in his three full seasons at Anfield, played down the significance of the defeat to Barnsley.
"I can only think about winning the next game, that is all," said the Liverpool manager.
"I don't know too many managers who win the Champions League every year. We need to improve the squad. It is a young squad with good players.
"You cannot say, 'Oh, because I couldn't win this game I will stop training and working'. We need to prepare for the game against Inter Milan and against Middlesbrough. That's football."
The Liverpool manager also dismissed suggestions that dissent among his Liverpool fans was on the rise.
"Everybody wants to win here, so the way to win is to keep working," he added.
"If you say that the players were not working hard against Barnsley, I would say that's not true. The team was trying to win. Again, I could say the same things as I have said for the last month – you need to take your chances. The supporters could see the team against Barnsley and the chances we created."
Fancy a free bet on the Grand National this year? easyodds are giving away £5 free bets on the 2008 National. Click here for more info!