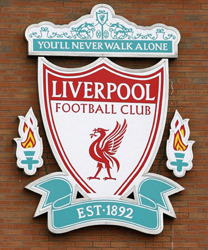 Liverpool are 18th after 7 games – could the Reds be relegated this season? See the latest Premiership relegation odds at easyodds.com.
A judge has ruled against Liverpool's owners in a High Court decision that brings the club closer to being sold to New England Sports Ventures.
Judge Christopher Floyd ruled Tom Hicks and George Gillett have no power to stop their boardroom rivals, who sanctioned the sale last week.
The judge, who heard five hours of court arguments in the case on Tuesday, ruled that Hicks and Gillett have "no absolute right to veto a sale."
Mr Justice Floyd also rejected applications by the owners for an injunction to halt the sale negotiations until they had attended a board meeting and there be further discussions over any sale agreement.
"I am not prepared to grant any relief. If I did it would risk stopping the sale and purchase agreement going ahead," he said.
The board agreed to sell the debt-ridden Premier League club to New England Sports Ventures for £300m.
However Hicks and Gillett took the matter to the High Court, arguing that the deal undervalued the club.
Those efforts have been in vain, though, as Mr Justice Floyd has given Liverpool chairman Martin Broughton the go-ahead to sell the club.
He ruled in favour of the Royal Bank of Scotland, who are owed over £230m by Hicks and Gillett following their takeover.
Owners considering appeal
Keith Oliver, a senior partner with solicitors Peters & Peters, who are acting for the club's owners said there was still room for appeal.
Mr Oliver added: "We are obviously disappointed with the judge's decision.
"Mr Hicks and Mr Gillett will now be considering their next steps, and that will include whether to make an application to the court of appeal."
This was a significant victory for Liverpool chairman Martin Broughton, who has been trying to sell the Anfield outfit.
"I am absolutely elated, it's a very important day for our club," he said.
"This will clear the way for the sale, we will have a board meeting this evening and proceed with the sale.
"It has been an anxious time but we have been confident. But when you go to court you can ever be sure."
Regarding the possible sale to New England Sports Ventures (NESV), Broughton added: "The board has to be reconstituted and I can't prejudge what the board is going to say.
"It would be inappropriate to prejudge what the board may say.
"I want to thank the fans for their support through a difficult time. We hope to have the board meeting this evening. We will get the right owners for the fans.
"It was an excellent outcome and I will be very pleased when the process we came in to do is completed."
The deadline for repayment on that loan was set at Friday, with fears raised that Liverpool could be deducted nine points if the club's holding company, Kop Holdings, were forced into administration.
That situation will be avoided should a takeover agreement with NESV now take place, with John W Henry, the group's front man, stressing that all outstanding debts will be cleared should he assume control.
There is, however, still a chance that a rival bid from Singapore billionaire Peter Lim could be negotiated. He has offered £320million to buy the club, with £40m available for players in the January transfer window.
Liverpool are 18th after 7 games – could the Reds be relegated this season? See the latest Premiership relegation odds at easyodds.com.
Make sure you don't miss any of the last news and articles from World Soccer. Subscribe to World Soccer today and take advantage of our all 50th anniversary offer, saving up to 50%!