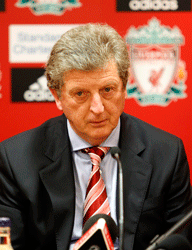 Liverpool have fired manager Roy Hodgson.
Hodgson found himself under immense pressure following the disappointing 3-1 defeat to Blackburn in midweek.
The 63-year-old refused to answer questions on his future following the defeat at Ewood Park and speculation over his future intensified after his pre-match press conference on Friday was cancelled.
The club have turned to former player and manager Kenny Dalglish to take up the reins for the rest of the campaign.
In a statement on the club's website, the club's principal owner John Henry said: "We are grateful for Roy's efforts over the past six months, but both parties thought it in the best interests of the club that he stand down from his position as team manager.
"We wish him all the best for the future."
Hodgson admitted he was disappointed to have left Liverpool after conceding the last few months had been some of the most challenging of his career.
"Being asked to manage Liverpool football club was a great privilege," he said.
"Any manager would be honoured to manage a club with such an incredible history, such embedded tradition and such an amazing set of fans.
"Liverpool is one of the great clubs in world football. I have, however, found the last few months some of the most challenging of my career.
"I am very sad not to have been able to put my stamp on the squad, to be given the time to bring new players into the club in this transfer window and to have been able to be part of the rebuilding process at Liverpool.
"The club has some great, world-class players, with whom it has been a pleasure to work and I wish the entire squad well for the rest of the season.
"I thank those with whom I have built up a close working relationship at the club for their loyalty and support during very testing times, and finally of course to the Liverpool fans, your passion and dedication to the club will see Liverpool at the top of the game once more."