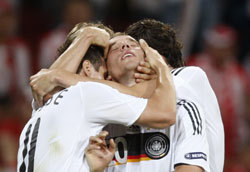 See the ever-changing outright betting as we sift through the opening Group games!
Germany coach Joachim Low lavished praise on Lukas Podolski after his double strike secured them victory in their opening Euro 2008 clash with Poland.
Podolski was one of a number of outstanding performers in Germany impressive 2-0 win in Klagenfurt, but Low was happy to single out the contribution made by the Bayern munich striker.
"For the past three weeks Lukas has worked very hard," he said. "He has amazing physical ability and potential.
"Lukas has an excellent shot. When he gets free for a shot it's very tough for a goalkeeper to stop him."
Podolski has struggled since a move to Bayern Munich two years ago, but Low said he never lost confidence in the 23-year-old.
"For us, Lukas has always played well," he added. "But even for Bayern, when he played, he had good performances because otherwise he would not be part of the national team.
"Podolski scored both goals for us and he has the ability to play both positions. He can come from deep in midfield and play like he did here.
"Naturally, we are pleased with the result. We had to find out where we stand as a team, because it's the first game. We are a good team, we played very well. It was a demonstration of our will, of our desire."
It was an emotional occasion for Podolski, who was born in Poland. His goal celebrations were muted out of respect to members of his family who were in attendance in Klagenfurt.
"My dad and uncle and relatives from Poland were there in the stands," he said.
"They're going home tonight, so that's why I went there to the stands. I didn't celebrate very much because I was born in Poland, I have a big family there, and you have to have some respect for the land.
"It was one game we won. We wanted to win, but we have to improve against Croatia. It was a bit more difficult to play against Poland two years ago, they were defensively good today, but I think they wanted to play a little bit more with us."
See the ever-changing outright betting as we sift through the opening Group games!