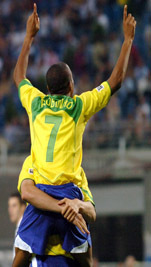 Real Madrid coach Vanderlei Luxemburgo says he is the man to help Brazil forward Robinho adapt to the rigours of European football.
Amid speculation that the 21-year-old will soon move to Real, Luxemburgo has upped the ante by implying that a deal is imminent.
"At Real Madrid, he's going to work with a coach who knows his characteristics and has coached him before," Luxemburgo was quoted as saying.
"It would be ideal for Robinho," added Luxemburgo, who was Santos coach before joining Real at the end of last year.
Robinho has already admitted that he wants to join Real Madrid and lasst week, in a television interview, he bade farewell to the Santos supporters.
Santos president Marcelo Teixeira tried to play down reports of his departure but when Robinho failed to turn up for training with Santos on Friday and Saturday, the rumour mill went into overdrive.
"This matter has to be settled between Santos, Real Madrid and Robinho's agent," said Luxemburgo.
"It's a very complicated matter. I want to take him, it's a right that I and Real Madrid have. If Marcelo Teixeira and Santos don't want to sell, that's their problem. There's nothing dishonest in this."