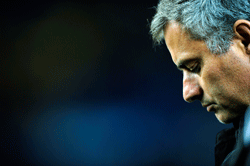 There's a full Premiership fixture list on Tuesday & Wednesday – see the best odds on every match here…
Real Madrid's title hopes were left in tatters after Jose Mourinho's side suffered a shock 1-0 defeat at struggling Osasuna on Sunday to fall seven points behind leaders Barcelona.
It was Mourinho's second league defeat in charge at Madrid, and the former Inter coach admitted that the loss could prove fatal to their league title aspirations.
"This is our second defeat in La Liga and we are in a very difficult situation with respect to the first place team," said Mourinho. "I don't like to lose when you give the match away by not playing, not fighting or not being committed or focused.
"That is not the case. Tonight the other team played its heart out and had a week to prepare for the match. They played to the brink. Tomorrow is a new day. There will be another match and we will be there.
"Osasuna are a tough team and the crowd was fantastic. I don't think many teams win here. It's a small venue where you really feel the heat, and Osasuna is a defensive team that also plays well in attack.
"We had scoring chances, but we didn't finish. It is always a lot harder on small fields like this and when the opponent scores first. Congratulations to Osasuna."
Emmanuel Adebayor, on loan from Manchester City, could not inspire his new side, although Mourinho refused to blame him players for the defeat.
"I can't fault the players as they did their job," said Mourinho.
"We didn't deserve to lose the three points but we lost against a team that gave everything and had the whole week to prepare for the match.
"It is always difficult in Pamplona and I don't think many teams win here. It is a match that you win by being solid defensively and scoring.
"We had chances but didn't take them and it is three points lost and our second league defeat of the season."
Meanwhile, Barcelona made it a record-equalling 15th consecutive league win with a 3-0 victory at Hercules on Saturday to match the long-standing record of Alfredo di Stefano's 1960-1961 Real Madrid side.
There's a full Premiership fixture list on Tuesday & Wednesday – see the best odds on every match here…
Take advantage of the January sales by saving up to 36% on a subscription to World Soccer