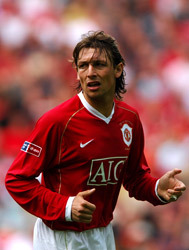 Manchester United chief executive David Gill remains adamant that Liverpool's bid for Gabriel Heinze will not be accepted.
Liverpool boss Rafael Benitez is growing frustrated that the 29-year-old Argentine defender's move is being blocked by United.
Liverpool have agreed to pay the £6.8m fee which would secure his release – as stated in a letter from United to Heinze's agent.
But Gill said: "He is a contracted player for two years and unless we receive an offer which is acceptable to us as a club, he will remain with us.
"We are very comfortable with that. Our position is very clear on Gabriel Heinze and it has not changed."
United manager Sir Alex Ferguson has made it clear that he does not want any of his top players to join his club's arch-rivals.
"Heinze is not going to Liverpool as far as I am concerned," Ferguson said on Monday.
"We are examining some of the statements coming from his agent and when the contact was first made, but at the moment we have nothing more to say.
"We are not happy with agent's conduct in the matter and we're examining that."
However, Benitez insists several potential suitors have been made aware of Heinze's availability by United.
"A lot of clubs, in many different countries, knew what the situation was," said the Spaniard.
"I don't know what the problem is.
"I know what they said to the press but everyone knows they signed a document."