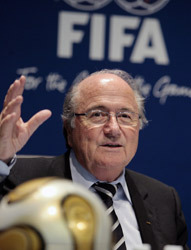 Premier League 2008/09 Outright – After winning their 10th Premier League title Man Utd are BestPrice 11/8 to retain the trophy next season. Click here for all the latest odds!
Manchester United have issued a stern rebuke to Sepp Blatter after the Fifa president suggested that Cristiano Ronaldo should be allowed to leave Old Trafford.
Blatter caused widespread controversy with his comments after describing footballers relationship with their clubs as akin to 'slavery'.
Ronaldo has been linked with a move to Real Madrid throughout the summer, and although United insist the player is not for sale, Blatter has intervened to say that clubs should not stand in the way of players who want to move.
A United club spokesperson responded: "All our players – like at other clubs – enter into their contracts after an open and free negotiation.
"Most of whom do after taking advice from a FIFA-registered agent.
"Many do so on a number of occasions and enjoy long and successful stays at Old Trafford."
Uefa, meanwhile, have warned that players are becoming ever more powerful, and rejected Blatter's suggestions they are slaves to clubs.
Communications director William Gaillard, who also serves as special advisor to UEFA president Michel Platini, gave a different point of view and claimed salaries are 'spiralling out of control'.
"It would be useful to remind people that slaves in all of the slavery systems never earned a wage," communications director William Gaillard told Sky Sports News.
"It seems that both clubs and players are trying to negotiate an exit before the player is free.
"It is a consequence of the Bosman ruling – there is nothing we can do about that.
"It is obvious that today players have a lot more power than they did 20 years ago, undoubtedly, and agents have a lot more power than they did 20 years ago.
"It is true that salaries are spiralling out of control. Many clubs have pointed that out."