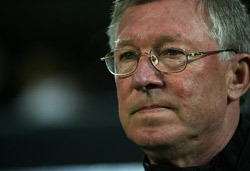 The African Cup of Nations is now underway and we have all the best outright tournament and individual match odds.
A Manchester United fans' group is considering asking Sir Alex Ferguson to step down as manager, in protest at the Glazer family's ownership of the club.
The Manchester United Supporters' Trust met to discuss the club's current situation before United's 3-0 victory over Burnley on Saturday.
Many agreed it is time for the longstanding United boss to resign in order to make a statement about the club's financial situation.
"This is not intended as an Alex Ferguson rant," Johnny Flacks told the Guardian. "But he claims to be a socialist, a former shop steward and a man of the people, so he must be horrified by what is going on.
"It would work only if thousands of people sent a copy of this letter to Ferguson letting him know that our fear, if the Glazers stay in control, is that his legacy is going to be destroyed. We wouldn't want that and I don't think he would either."
Fans also discussed the possibility of asking United fans' favourite and Old Trafford legend Eric Cantona to act as their figurehead, and plans are being put in place for a protest march before the Champions League tie against Milan on March 10.
United supporters' groups have consistently opposed the Glazer family, with anti-Glazer chanting rife during the win against Burnley. Stewards confiscated a large banner reading: "Love United, hate Glazer", after it was unfurled at the Stretford End.
The Glazers recently revealed a refinancing plan but it has been greeted with anger by most supporters, with many now arguing that Ferguson should make a gesture and quit the Old Trafford hotseat.
"We are talking about a manager who has achieved so much for the club and has created the monster that is Manchester United," Flack said. But we have to look at the greater good and at the moment we have the ludicrous situation where a club that gets over 70,000 supporters is losing money.
"This would be Ferguson's chance of saying that something had to be done. He would be looking after the club in the longer term if it meant the Glazers would sell more quickly. And if he said he was going to resign, maybe that would also encourage potential buyers to hurry up."
"Moving to Carrington was his baby and he must be horrified that the Glazers could now be thinking of selling Carrington and then arranging for it to be leased back," Flacks said. "That would make Manchester United no better than a non-league club not even owning a training ground."
The African Cup of Nations is now underway and we have all the best outright tournament and individual match odds.
Make sure you don't miss any of the last news and articles from World Soccer. Subscribe to World Soccer today and take advantage of our all 50th anniversary offer, saving up to 50%!