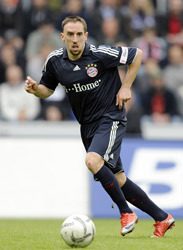 Manchester United are reported to have made a world record £62.5m bid to Bayern Munich to sign French midfielder Franck Ribery.
The Guardian report that sources in Munich confirmed that United made the offer some weeks ago after club scouts repeatedly watched the 26-year-old in action.
The offer, which would shatter the current world record transfer of £44m set in 2001 when Real Madrid signed Zinedine Zidane from Juventus, would only come into effect if Cristiano Ronaldo joins Real Madrid.
Although the paper contends that the Portuguese star is almost certain to leave this summer, earlier this week the World Player of the Year said: "I'm no longer thinking of Madrid. That dream is dead".
Although Bayern are understood to have turned down United's initial offer it could regarded as an opening bid in negotiations for an increasingly unsettled player who has consistently refused to sign an extension with the Bundesliga outfit.
Ribery has grown increasingly discontented at Bayern this season and last week said that he might have to leave unless the club can secure Champions League football next season.
"In those circumstances it would indeed be very difficult to stay, that's obvious… That's why the club has to finish at least second," he said.
Bayern are currently second in the league, three points off the leaders VfL Wolfsburg. Only Germany's top two teams are guaranteed places in the Champions League.
The former Marseille player moved to Munich in 2007 and is contracted to Bayern until 2011.
For more fascinating features, subscribe and save 30% and use the below link?