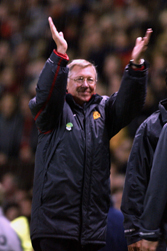 Manchester United chief executive David Gill has refused to respond to the allegations that an Arsenal player threw food at Sir Alex Ferguson.
Several newspapers reported that soup was hurled at Ferguson by an unnamed Arsenal player, following United's 2-0 win over Arsenal at Old Trafford.
The Football Association was also making no comment but could initiate an inquiry afetr studying the media reports.
"I have no comment to make," Gill told BBC Radio Five Live when asked about the incident that is reported to have occurred in the tunnel after United's 2-0 win.
Arsenal had left the field incensed after the Old Trafford clash and manager Arsene Wenger was hugely critical of referee Mike Riley.
Riley awarded a controversial 73rd minute penalty after United striker Wayne Rooney fell over over a trailing Sol Campbell leg in the Arsenal box.
Wenger could find himself in trouble follliwng his remarks about Riley.
The Frenchman said: "Riley decided the game, like we know he can do at Old Trafford. We were robbed."
"We got the usual penalty when we come to Manchester United and they are in difficulty," he said with heavy irony.
"It happened last season and it's happened again. We are extremely disappointed because we were the better team. Then, out of nowhere, Riley decided the game – like he can do at Manchester United.
"To see how lightly a referee can give a penalty in a game of that importance is very difficult to take. We can master only our performance, not the referee's and the penalty was the turning point. Until then we had looked more like winning the game. So we feel we were robbed; the referee made the difference."
"There was no contact at all for the penalty," he said. "Even Rooney has said so. He told our players that he was not touched. In a game like this the referee has to be absolutely sure it's a penalty. Well, it didn't look obvious to me."