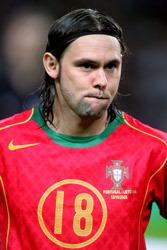 Premier League Fixtures – The start of the new Premier League season might still be a while off, but the fixtures are already out and we've got all the early match betting – Aug 16th
Maniche says that he hopes to see out his contract at Atletico Madrid, despite last season's fall-out with coach Javier Aguirre.
The Portugal midfielder spent the second half of the 2007-08 season on loan at Serie A champions Inter after his contretemps with Aguirre.
It was expected that the 30-year-old would look for a permanent move away from the club this summer, but he insists that he has no plans to leave.
"When I came here (in 2006) I signed for three years, with the intention of doing that. I would like to continue this great project," Maniche said.
"There's been a lot of talk about my leaving the club but the most important thing is that I want to stay.
"That's a decision that doesn't only depend on me, but I want to do everything possible to remain here."
Maniche also confirmed that he has made his peace with Mexican coach Aguirre.
"When I'm in the wrong I recognise it," he said.
"It's important to know when you've made a mistake and to sort things out."
Premier League Fixtures – The start of the new Premier League season might still be a while off, but the fixtures are already out and we've got all the early match betting – Aug 16th