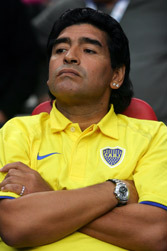 Diego Maradona has turned down the chance to become involved with Argentina's national side.
The Argentinian legend had reportedly been ready to offer his services ahead of the World Cup in 2006 after being invited to become involved in Jose Pekerman's coaching set-up.
However, he has now decided to turn down an offer put before him by Julio Grondona, president of his country's Football Association.
"I think that this isn't the right moment for me to be at the national team," said Maradona.
"I want to make clear that I am thankful to Julio Grondona because I know that he wants me near the national team and he wants me to work for the national team but I want to set him free with this fact, because many things have been said and I don't want to be a problem when we are only half a year away from the World Cup.
"I told Grondona that I think that the best thing is to wait until after the World Cup.
"Then we can talk again about what I would be doing for the national team.
"There has been too much speculation all these days and I have said that (Jose) Pekerman must be respected, so the best thing is to wait some more time.
"That's the reason why I haven't accepted the position, in addition because it wasn't really clear what I was going to do."
Maradona, who appears to have ovcercome his health probems in recent months, is currently hosting his own television show and is keen to focus on his media work for the time being.
Subscribe to World Soccer – The essential football magazine