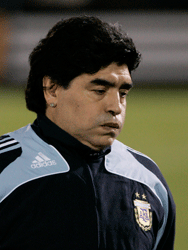 England have booked their World Cup 2010 place in South Africa after thumping Croatia 5-1 at Wembley. What price are they now to go all the way?
Diego Maradona has vowed to reviveArgentina's fortunes, despite seeing his side go down to a 1-0 defeat to Paraguay that jeopardises their chances of qualifying for next year's World Cup finals.
Nelson Valdez's 28th-minute goal at the Estadio Defensores del Chaco in Asunción condemned Argentina to a fourth defeat in their past five qualifiers, sending them down to fifth place in the South American qualifying group with two matches left to play.
Only the top four teams in the group qualify automatically for South Africa, with the fifth-placed team facing a home-and-away play-off with the fourth-placed team from the North, Central America & Caribbean group.
Argentina – who are one point behind fourth-placed Ecuador in the standings – are at home to Peru on October 10, and then away to sixth-placed Uruguay three days later and realistically must win both matches if they are to avoid a play-off, or worse.
However, Maradona insists there is no need to panic and that Argentina are "still alive".
"I never imagined myself being in this situation, I thought we would be much higher," said Maradona. "But this is the reality. Despite everything we still have a chance, we still aren't out of the World Cup. While I have a dot of blood I will do everything for Argentina to qualify.
"We will chat as a group to find out the mistakes and to see what happened to us in these important matches that we lost when prepared well mentally. And we will prepare ourselves like we always have.
"I will reunite with the rest of the coaching staff and we will find out where we went wrong. If we should have gone out with one player or the other. But we will do this in private and with my assistants. And then we will speak to the players. We will say what we need to say with the players."
Regarding his own position, Maradona said he was unconcerned about the criticsim he would now face.
"I don't fear critics. I don't fear anybody," he stated. "I do my job, I coach my team and I will keep going ahead. I've been battling critics since I was 15. Now I am 48 and I will keep fighting journalists."
Maradona praised his conquerors, who have now qualified for the finals, but remained defiant.
"Paraguay played well, particularly Cabanas and Haedo Valdes," he said. "They held the ball and midfielders attacked us from the sides. We should have marked them better. It is down to poor form and failures as a team.
With regards to a potential play-off match, former World Cup winner Maradona claimed it would not be a problem.
"There's no drama. In 1994 we had to travel 24 hours for a play-off. No-one died due to playing it, and at the end we qualified for the World Cup. We are still alive," he said.
England have booked their World Cup 2010 place in South Africa after thumping Croatia 5-1 at Wembley. What price are they now to go all the way?
For more fascinating features, subscribe and save 30% and use the below link?