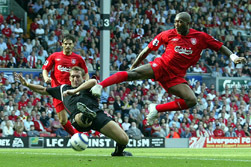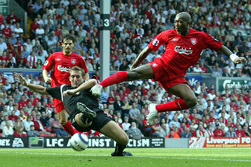 Marseille have admitted they are interested in signing Liverpool striker Djibril Cisse if the Premiership club decide to bring Michael Owen back from Real Madrid.
Cisse has been linked with a move to Stade Velodrome, and l'OM president Pape Diouf has confirmed the club's interest.
Any move for the French international will determined by Owen's situation at Madrid.
Rumours persist that the European champions are looking to recruit Owen just 12 months after he left the club for Real Madrid.
Diouf admits the interest in Cisse is still at an early stage.
"We have not had any direct contact, neither with Cisse, nor with Liverpool," Diouf told the club's official website.
"But he has learned, while discussing it with his coach, that Michael Owen could return to the club where he started his career.
"Djibril then said to his coach that he did not wish to stay if he was not going to play in his original position – centre forward.
"It is known, and he has never hidden it, that Djibril would like to play at Marseille. Then the idea was immediately propelled for Cisse to join l'OM.
"If the chance to sign Djibril for Marseille was given to us, we would do it very readily."