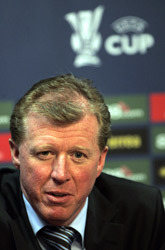 Steve McClaren will be the next England manager, the Football Association has confirmed.
The Middlesbrough manager will take over when Sven-Goran Eriksson steps down after the World Cup finals in Germany.
He has agreed a four-year deal with England.
McClaren had looked set to miss out to Portugal manager Luiz Felipe Scolari, who was offered the post by the Football Association in April. But Scolari ruled himself out of contention and McClaren, 45, was the next in line.
McClaren travelled to London from his Yorkshire home earlier in the day and arrived at the FA's Soho Square headquarters forty minutes ahead of an official announcement at 1620 BST.
"Honour"
"This is the biggest honour that any coach can have, and is obviously the highlight of my career," he said.
"It's a massive challenge and one that I welcome. I have hugely enjoyed my time at Middlesbrough and am very grateful to the club.
"However, this was an opportunity I couldn't refuse.
"My immediate priority is next week's Uefa Cup Final with Boro, and then working with Sven and his coaching team to achieve success in Germany this summer, before I turn my thoughts to the Euro 2008 qualifying campaign."
Reaction
FA Chief executive Brian Barwick who has come under fire for his part in the selection process, was delighted to unveil the new England boss.
Barwick said: "I'm delighted to be able to announce Steve's appointment today. He has shown himself to be a top-class coach for both country and club, leading Middlesbrough to the most successful period in the club's history. He is the only current English manager in the Premiership to have won a major trophy.
"Steve is highly-respected within the game, has a wealth of international experience and ensures continuity within the England team set-up. I would also like to express my gratitude to Middlesbrough FC, and the other candidates and clubs involved, for their co-operation throughout this process."
"He has been involved in major international and top-class football in his role alongside Sven, for England, and Sir Alex Ferguson, for Manchester United.
"With Middlesbrough he won the club's first ever trophy in 2004 (the Carling Cup) and this year reached the FA Cup semi-finals. Next Wednesday they are in final of the UEFA Cup.
"Steve believes in the nurturing of young talent – and especially young English talent – and giving those players an early chance."
FA Director of Football Development Sir Trevor Brooking added: "I'm delighted that Steve will be the next England Head Coach. His appointment is great news for England and also for the English game long-term, underlining confidence in English coaching.
"His first priority will be success with the England senior team, but as a holder of the UEFA Pro Licence he will also play an integral part in The FA's coach development programme. He has shown at Middlesbrough that he is innovative and committed to bringing through talented young English players and giving them their chance at the top level."
Current incumbent Sven-Goran Eriksson added: "I'm obviously very pleased for Steve, but also for the England team. I have worked closely with Steve ever since I came to England and know how good a coach he is. He is well-liked and well-respected by the players and staff. I have no doubt that he has all the credentials to be very successful in the job and wish him all the best.
"I said that I didn't want the next England coach to be with the team at the World Cup, unless he was already involved in the set-up. Steve is a key part of my coaching staff and I'm delighted to have him with us in Germany."
Background
McClaren began coaching in the early 1990s at Oxford United.
He moved on to Derby County where, under Jim Smith, he helped the club win promotion to the Premier League in 1996.
McClaren was then lured to Manchester United as Alex Ferguson's deputy and helped the club win the treble of European Cup, Premier League and FA Cup in 1999.
In 2000, in the wake of Kevin Keegan's resignation, McClaren assisted Peter Taylor, who at the time was in temporary charge of the national team.
In March 2001, United refused to allow him to continue with England and later that year he was appointed Middlesbrough's manager. At Boro he once again worked in the England set-up, this time under Sven Goran Eriksson.
His chances of becoming the next England coach looked slim earlier in the year as Middlesbrough plummeted down the Premier League. However, his stock rose on the back of an astonishing UEFA Cup run which saw his team twice come back from four goals behind to reach next week's final in Eindhoven. That match will now be his final game in charge of the Premiership outfit.
Subscribe to World Soccer – The essential football magazine.