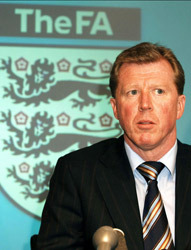 England coach Steve McClaren remains confident of qualifying for next year's Euro 2008 finals after their victory in Estonia.
"We have five games left and four of them are at Wembley," said McClaren, who saw some of the pressure eased on him with a 3-0 win in Tallinn.
"We've already shown that Wembley can be a fortress.
"We have looked a team over the last few performances. It's in our hands – if we win our games we'll qualify."
England closed the gap on Group E rivals Croatia and Russia, who drew 0-0 in Zagreb.
"We knew before the game it was going to be tough – we warned the players and warned the people," added McClaren.
"Estonia kept going to the end, even when they were 3-0 down. They have great spirit.
"We competed and we knew eventually they would tire. We got that first goal and then the rewards came in the second half.
"We've gained a lot over the last two and a half weeks. Friday gave us a lot of confidence and belief which we showed against Estonia."
McClaren was delighted with the performances of the returning David Beckham and Michael Owen.
Beckham set up two of the three goals while Owen was the beneficiary of one of his trademark crosses to score England's third.
"David Beckham knows how to play that position," he said. "He knows when to come inside and when to go wide.
"The players were fantastic – they found him and his delivery in that position is second to none."
Beckham picked up an ankle injury in the first half but insisted on carrying on before being substituted after the third goal.
"He wants to stay on and finish games. He's the only one who has games coming up but he did the job for us."
Despite being England's outstanding player on the night, McClaren refused to confirm whether Beckham would be in his next squad
"We'll see when the next squad is announced," he added. "He answered everyone with his performance on the field."
Owen scored his first goal for England after missing almost the whole season through injury.
McClaren said: "I'm pleased for him getting that goal. His work-rate was phenomenal, he was dropping into midfield, he looked sharp and he just needed a goal and I'm glad he got that."
Beckham was pleased to have marked his return to competitive football with a victory after being dropped by McClaren after last summer's World Cup finals.
He said: "It's been nice to get back with the lads – there's a great atmosphere in the team.
"We've scored some good goals and played some good football – confidence is gradually coming back in the team.
"Hopefully we've put ourselves in a better position now – but we need to carry on playing.
"I'd love to be in the next squad and Steve [McClaren] has made that clear – if I'm performing and playing like I've been playing recently I'll be in the squad.
"Of course there's always pressure about staying in the team and winning your position – but am I on trial? I'm not sure about that.
"I always enjoy playing for my country and I've enjoyed the last couple of weeks – so let's see what happens."