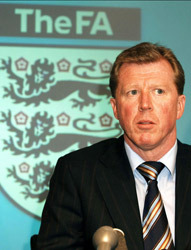 Steve McClaren remains unconcerned by suggestions that he will be fired should his England team suffer defeat to Estonia in Wednesday's Euro 2008 qualifier.
McClaren said: "I understand why people will be thinking that and asking that but we're not even contemplating that, we're here to win a football match.
"It's not even an issue for me. I'm just focusing on the game."
England are fourth in Group E, five points behind leaders Croatia, who face second-placed Russia on Wednesday.
McClaren added: "Patience is the key word, I'll be stressing that to the players and I would stress that to the fans. It might not happen in the first 10-15 minutes; we might have to wait.
"This Estonia team are very well organised. For the first 20-25 minutes they do put a lot of effort in.
"It's one of those cases where a big team goes to a smaller team and the smaller team make it very difficult. They do that very well."
Amid a poor run that has seen England win just one game in their last seven internationals, McClaren believes the players have taken great heart from last Friday's draw with Brazil.
"There is a great mood among the squad and we have to build on that," said McClaren.
"We had a good performance against Andorra and a tremendous performance against Brazil, the fans got behind us and everyone enjoyed the occasion."
Despite England's position in the group, McClaren believes that home advantage in four of their last five qualifying games will favour England.
"If we win on Wednesday it puts us in a good position, a position where our fortune is in our hands.
"I think we saw on Friday that Wembley is our home. It was a fantastic atmosphere and there was an aura.
"With four of our last five games at home we have got to be confident going into that."
England captain John Terry claims McClaren has taken the brunt of media criticism as a means of shielding the players from any additional pressure.
Terry said: "Steve has tried to deflect it away from the players in the same way as Jose Mourinho does at Chelsea.
"He tries to take a lot of it on himself and it does make it easier for the players and we all thank him.
"We're fully behind the manager."