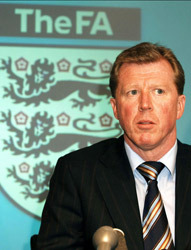 Who will be the next Permanent England Manager? Click here for the latest odds!
Steve McClaren has been sacked as England coach following his side's elimination from Euro 2008.
Assistant coach Terry Venables has also been fired in what was a unanimous decision by the Foootballl Associtation's board.
McClaren's position had become virtually untenable following the 3-2 defeat to Croatia at Wembley on Wednesday.
FA chairman Geoff Thompson said: "Like every England fan, we are all bitterly disappointed that we have failed to qualify for Euro 2008, and I know Steve feels that disappointment more than anyone.
"Of course we have no divine right to play in major tournaments, but it is quite right that qualification is expected.
"I would like to thank Steve for the work he has done since taking on the position last summer. His commitment to the job could not be questioned and I wish him the best for the future.
"The recruitment process for the new coach begins now and we will do everything to get the right man for the job."
McClaren, who had a four-year deal, is expected to be paid £2.5m in compensation after seeing his contract terminated after just 18 months in the post. He departs as statistically the worst England manager in history, having lost five of his 18 matches in charge.
FA chief executive Brian Barwick confirmed that nationality would not be an issue as he looks for McClaren's successor. Former Chelsea boss Jose Mourinho and experienced Italian coach Fabio Capello are reported to be in the running to become the next England coach.
Barwick, who has put of charge of finding England's new head coach, said he had "no regrets" about appointing McClaren on a four-year contract. "In the end, not qualifying for Euro 2008 means he comes up short," he added. "I'd like to apologise to the fans. Last night was a tough, tough night. We understand they have let the whole fans down.
"I spoke to Steve this morning – we get on very well with him. I've had many grown-up conversations and had another one with him this morning – and I can only wish him well.
"Qualification for a major tournament is probably a minimum requirement."
Thompson also promised that the organisation would now instigate a "full root and branch examination of the whole England senior team set-up" which would begin "with immediate effect".
Saddest Day
McClaren said at a news conference on Thursday that losing the England manager's job was "the saddest day in my career".
"Eighteen months ago (when he was appointed) was the proudest day of my career and I was honoured to be the England head coach and for 18 months I've enjoyed every minute.
"It is a sad day to have been relieved of my duties but I understand the decision of the FA.
"I have huge disappointment for the nation and fans. But I will learn from my failure," added McClaren.
"I believed I was up to the job when I took it and I still believe it now. But obviously, you are judged by results.
"I said right at the start I would live and die by results and results haven't gone my way. In that sense we have failed.
"Obviously there's going to be a clamour for a new head coach. The future is the future, all I can do is concentrate on getting over this huge disappointment and looking forward.
"Although it is a sad day I will recover, bounce back and wait for my next challenge. I'm not one to lie on a beach," he said.
Talking about the motivation of the England players he has managed, McClaren said: "These are professional footballers who want to play for England.
"All I will say is they are a pleasure to work with, they really want to achieve. Unfortunately we have come up short and we all take responsibility.
"After the disappointment and the criticism we need to get behind our football players.
"I take full responsibility, results haven't gone our way and we haven't qualified and I've paid the price."
Who will be the next Permanent England Manager? Click here for the latest odds!