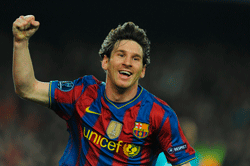 Lyon take a 3-1 lead to Bordeaux for their Champions League quarter-final 2nd leg – see all the betting here.
Arsenal manager Arsene Wenger hailed Lionel Messi as the world's best player after his four-goal haul ended the Gunners' Champions League hopes.
Barcelona won 4-1 at the Nou Camp to complete a 6-3 success on aggregate in the quarter-final tie.
"I believe we lost against a team that is better than us and that has the best player in the world," said Wenger.
"Once he's on the run, Messi is unstoppable. He's the only player who can change direction at such a pace."
However, Wenger felt his side had contributed to their own downfall against the defending champions.
"Over two games, we conceded cheap goals," said the Frenchman. "They didn't have to work hard enough. When you have players like Messi (against you), you can pay for any mistake."
Messi scored four goals in a match for the first time in his career to set up an intriguing meeting with Jose Mourinho's Inter in the last four.
Barca manager Pep Guardiola described the Argentine's performance as "awesome", and praised the human side of the Argentinian.
"The good thing is about Messi is that tomorrow he will get up and look for the affection of his people and his team-mates," he said. "I like the love he has for football and his anonymous character.
Meanwhile, Gunners keeper Manuel Almunia was equally effusive about Messi and Barcelona.
"We were beaten by a brilliant player and a brilliant team in general," said the Spaniard.
"You have to try to anticipate what he's going to do, but it's so difficult because he can do what he wants.
"It's difficult to stop these kind of players. He couldn't score in the first leg, but he was great tonight."
Messi sought to play down his personal contribution to the defeat of Arsenal.
"What I did isn't so important but the performance of the team as a whole is what counted," said the 22-year-old.
"It wasn't a good start for us but thankfully everything worked out well in the end and I'm just really happy that we won the game."
Lyon take a 3-1 lead to Bordeaux for their Champions League quarter-final 2nd leg – see all the betting here.
Make sure you don't miss any of the last news and articles from World Soccer. Subscribe to World Soccer today and take advantage of our all 50th anniversary offer, saving up to 50%!