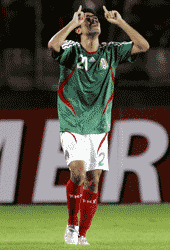 Two first half goals gave Mexico a stunning 2-0 win over defending Copa America champions Brazil in Puerto Ordaz.
Nery Castillo produced a moment of magicto open the scoring midway through the first half before a free-kick from Ramon Morales sealed the points for Mexico.
Castillo took a pass from Juan Carlos Cacho just inside the penalty area before flicking the ball over defender Maicon, collecting it again without letting the ball touch the ground and beat goalkeeper Doni from 7 yards.
Ramon Morales doubled the lead with a 25-yard free kick in the 29th that left Doni frozen to the spot.
"Beating a team like Brazil is a great thrill and gives Mexico something to cheer about after our sad defeat against the United States in the Gold Cup," Mexican defender Rafael Marquez said.
"But we need to take the victory calmly. There's still plenty of work to do."
Brazil, eliminated by France in the World Cup quarter-finals last summer, suffered the rare indignity of losing their second successive competitive match.
"We've beaten them several times, but we knew going in it was a risky rival that has improved a great deal," Brazil coach Dunga said.
"The last 35 minutes we dominated the ball in the opponent's area, but the goals didn't come."
In the other Group B game, Chile left it late to come from behind to snatch a dramatic win over Ecuador, scoring twice in the last 10 minutes.