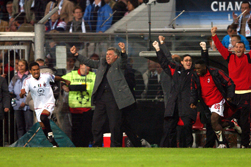 Milan coach Carlo Ancelotti admitted his side were very lucky to reach the Champions League final after beating PSV Eindhoven on away goals.
Milan won the semi-final on the away goals rule after losing the second leg 3-1 to PSV, but Ancelotti acknowledged that his team had been fortunate to prevail.
"There is no point analysing this match and being ironic. We are very lucky to be in the final and we have to look forward now," Ancelotti told reporters after the tie finished 3-3 on aggregate.
"We were planning to start with a high rhythm, keep possession and go for an early goal. We only started playing when we were 2-0 down. Then we really came into the match.
"We are very tired and it was a huge battle for us against a good team."
An absorbing game at the Philips Stadium looked set for extra time after goals from South Korean Park Ji-Sung and Philip Cocu cancelled out the Italian side's 2-0 victory from the first leg at the San Siro.
Milan came under intense pressure and their much-vaunted defence, which had not conceded a goal in seven previous Champions League games, was beginning to look its age.
But with time running out, Massimo Ambrosini headed home to seal the tie. Although Cocu scored a second in stoppage time, PSV were out on the away goals rule.
"We didn't play a good match, PSV played better," conceded Ambrosini.
"We have been good in limiting the damages because they played absolutely better.
"We could have lost – honour to PSV. Now we must learn from this evening's mistakes, knowing we have to face a final."
Former PSV defender Jaap Stam was left frustrated after being beaten on the night.
"I think we have suffered for the whole match, PSV played in a really good way," said Stam.
"We are happy for the fact we go to Istanbul and the final, but the fact we lost this match is annoying me.
"The final with Liverpool will be really hard.
"We are tired but on Sunday we have a really important match to face and we must recover quickly."
PSV coach Guus Hiddink said the defeat was hard to take.
"It was a beautiful night but we let it slip out of our hands in the final minutes," said Hiddink.
"It is very disappointing that you have a world class team like Milan on the ropes but you end up empty handed. The law of football says that you have to concentrate until the final whistle."