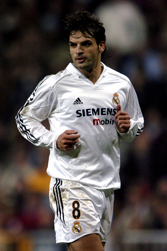 Fernando Morientes is due to complete his £6.3m move to Premiership side Liverpool on Thursday.
The 28-year-old striker arrived at Anfield to undergo a medical and provided there are no last minute hitches, he will complete his £6m move later today.
"I am excited about playing for Liverpool and it is the biggest decision of my football life," he told the club's official website.
"I'm going to work as one of the lads and try to make Liverpool even bigger than they are now."
The Spanish international added: "I am going with hope and promise I will work like any other player and try to make the club greater than it is already, although bearing in mind their history that is not going to be easy.
"I know (manager) Rafa Benitez very well and and I am going to give everything for him and for the Liverpool fans."
Before leaving Madrid, Morientes spoke to the press about his decision to join Liverpool.
"Going to Liverpool was a decision my family and I thought about a lot," he said.
"I want to play and I had several offers, but I think the best for me and my family was Liverpool's.
"Now all I can do is hope that the medical goes well and I am registered in time to play [on Saturday]. You can't ask for more than a debut against Manchester United. It would be a great debut for me and even better if the team wins."
"I am grateful that Real have accepted my wishes to go to Liverpool rather than other better offers they could have accepted," added the striker, who won three European Cups and two Liga titles while with Real.
"All I can say is thanks to all the clubs who were interested, including Lyon, but I had given my word to Liverpool.
"I'm going to Liverpool with all the enthusiasm in the world. This has been one of the most important decisions in my life and I'm very happy about it.
"It hasn't been a very pleasant few months at Real, but a lot of things have happened at the club that have contributed to that. I'm going with a cupboard full of trophies and for me that's the most important thing."
But he added: "I'm going to Liverpool to work hard and become one of the team."
Recently-appointed Real Madrid coach, Wanderley Luxemburgo, said he was disappointed to see Morientes leave.
"It was something which was in the air before I arrived," he said.
"Morientes is a player I like because of his playing style. But Real Madrid was talking about it and I couldn't do anything. I spoke to him but, if it was what the player wanted."
Morientes agreed a four-and-a-half-year contract at Anfield and hopes to complete his move in time to make his debut at home to Manchester United in Saturday's Premiership game.
He will become the fifth Spaniard to be signed for Liverpool by manager Rafa Benitez, after Luis Garcia, Xabi Alonso, Josemi and Antonio Nunez.