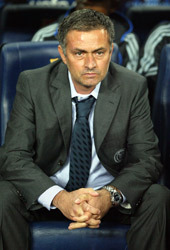 Compare football odds from over 25 bookmakers and claim £500+ in Free Bets. Click here for offer!
Chelsea manager Jose Mourinho embraced club owner Roman Abramovich as their frosty relationship showed signs of thawing in the wake of the club's FA Cup semi-final victory over Blackburn.
The pair hugged after Chelsea's 2-1 extra-time win and exchanged words or the first time since January.
"I have met him and we had a hug," said Mourinho, whose future has been in doubt amid reports of a rift with the Russian billionaire.
"I told him congratulations and he said the same. That is normal."
Mourinho has asked the Stamford Bridge club to clarify his position, but Abramovich has yet to confirm whether he would like the former Porto boss to remain at the club.
Mourinho's contract runs until 2010 and he has repeatedly said he wants to stay at the club.
Chelsea are still in contention in Premiership and Champions League and earlier this season they collected the Carling Cup victory as they chase an unprecedented Quadruple.
Mourinho acknowledged that his side were fortunate not to lose to a spritely Blackburn side.
"I was afraid," said Mourinho. "If they had scored at the end of normal time, the game would probably have been over but my team were heroes again."
Mourinho singled out keeper Petr Cech after he made some vital saves to keep Blackburn at bay.
Cech missed three months of the season after undergoing surgery on a fractured skull picked up against Reading.
"Petr Cech is more than special," stated Mourinho.
"He is the best goalkeeper in the world, everybody knows that, but to be the best in the world three months after that incredible surgery is amazing.
"When we saw him at Reading and then in the hospital, without hair and with a big scar, and then when he was trying all his different helmets on, there were a lot of question marks.
"We didn't know whether he could come back and still be the same.
"To come back and be so good, so quickly is fantastic."
Chelsea play West Ham on Wednesday before facing another Premiership match at Newcastle on Sunday and a Champions League semi-final, first leg against Liverpool three days later.
"We have just played for two hours, then in three days we have a match at West Ham which we have to win and on Sunday we have another at Newcastle where we are in exactly the same position.
"The way the matches are in this country is unbelievable."
Chelsea could also play Manchester United three times in a fortnight for a shoot-out for the Premiership on 9 May, FA Cup on 19 May and possibly the Champions League final on 23 May.
"I wouldn't be sad if we had to play them three times in a fortnight," he said.
"The way we have both played this season is absolutely unbelievable. We are both still fighting for the three major trophies, which is amazing.
"What we have to try to do is make sure our league game against them at Stamford Bridge is a final.
"We have to keep this run going and make sure we go into that game with a chance to be champions."
Compare football odds from over 25 bookmakers and claim £500+ in Free Bets. Click here for offer!