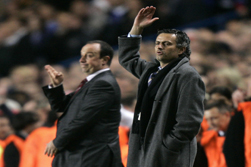 Both Jose Mourinho and Rafael Benitez professed themselves happy with the result following Chelsea's goalless draw with Liverpool in last night's Chmapions League semi-final.
Following a tight encounter of few chances Mourinho warned Liverpool fans not to get too carried away with the goalless draw at Stamford Bridge.
"We have got goals in Liverpool and they have to play a different way. It's dangerous for them.
"They play at home and 99.9% of Liverpool fans will be thinking they are in the final but they aren't and it will be difficult for them."
He added: "Anfield is a beautiful atmosphere. I played there for the first time in the Premiership.
"I can imagine in the Champions League semi-finals, with the tie at 0-0, it will be even more beautiful an atmosphere and I look forward to it.
"I think we had more chances than I thought before the game," he added. "Before the game I was thinking it would be much more difficult to score.
"I'm happy with the result. It's a result that leaves me very, very confident we will go to the final.
"It is not a result we fought for. We tried to win and created enough chances to – but in a Champions League tie 0-0 is a good result at home.
"I expect us to win because I'm confident we can score goals."
Frank Lampard was guilty of a glaring miss in the opening half when he volleyed over from close range.
His counterpart Benitez, was delighted with his team's performance.
"It is a good situation. We have very good supporters, they will be with us at Anfield and we need to win," Benitez said after the first leg.
"We always have confidence and we need to believe in ourselves.
"We played a good game. The team worked hard and controlled the game, they had chances but a draw is a good result."
Liverpool were dealt huge blow when Xabi Alonso picked up a yellow card which will rule him out of next Tuesday's game.
But Benitez was confident that Liverpool could adapt to the loss of the midfielder.
"We played three months without him due to injury and we won a lot of those games, so we will try to do the same again," he insisted.
"Dietmar Hamann is training normally and I think that maybe he will be fit.
"I've seen the foul again and it's very clear that it wasn't a yellow card
"We can't do anything about it but it's so clear that it's a pity. I prefer not to talk about the referee though."
Benitez felt his side improved after the break.
"We had more counter-attacks and they started playing with long balls," he added.
"We knew what to do against Chelsea, we know they have a lot of good players who can create opportunities. The most important thing is we need only to win at Anfield."