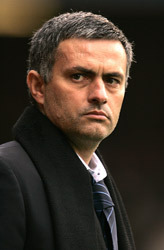 Jose Mourinho has accused the football authorities and the media of using double standards in their treatment of Chelsea.
Mourinho's outburst came after Chelsea beat London rivals West Ham 3-1 at Upton Park in a game which saw Blues' midfielder Michael Essien stretchered off with an ankle injury following a rtash challenge from Nigel Reo-Coker in the first-half.
Essien was recently at the centre of a disciplinary furore after he was handed a two-match ban by FIFA for a challenge on Liverpool's Dietmar Hamann. Mourinho believed the decision to ban the Ghanaian was influenced by Sky television's coverage of the incident.
"I do not want to talk about Reo-Coker," Mourinho said. "But we are now gaining great experience of how people look at Chelsea.
"Michael Essien was on television for 15 days after his tackle. Now he is suspended for the Champions League and his tackles always get yellow cards.
"For other players it is not the same. I saw Steven Gerrard in an incident at Newcastle last week which was on TV once or maybe twice.
"Michael was put out of the game today by a tackle and nobody will make anything of it. Some people seem just to want to chase Chelsea and that shouldn't happen. Everyone should be the same on a football field."
Subscribe to World Soccer – The essential football magazine