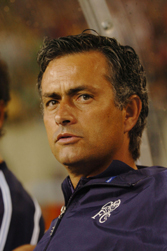 Chelsea manager Jose Mourinho may be charged by the Football Association after remarks he made about referee Neale Barry following their Carling Cup tie with Manchester United.
Mourinho sugggested that United boss Sir Alex Ferguson influenced referee Neale Barry after the exchanged words at half-time.
"I see one referee in the first half and another in the second," he said.
"If the FA ask me what happened, I will tell them. What I saw and felt made it easier to understand a few things."
"Maybe when I turn 60 and have been managing in the same league for 20 years and have the respect of everybody I will have the power to speak to people andmake them tremble a little bit.
"The referee controlled the game in one way during the first half but in the second they had dozens of free-kicks. It was fault after fault, dive after dive.
"But I know the referee did not walk to the dressing rooms alone at half-time. He should only have had his two assistants and the fourth official with him, but there was also someone else."
Ferguson was unhappy at the refusal of the referee to award a penalty to United in the first half.
But Mourinho pointed out that United had received a huge favour from officials during their recent league match with Tottenham, when the referee waved play on after a Pedro Mendes shot had clearly crossed the line.
"Manchester United should not be allowed to speak about referees for another year after that," he said.
"What happened against Tottenham was one of the most ridiculous decisions I have ever seen."
Mourinho was still optimistic his side could reach the final despite the 0-0 draw at Stamford Bridge.
"It's 0-0, so if we win we go through and if we get a draw we go to extra time," he said.
"We have exactly the same chance we had before this game.
"We are confident of getting a result but we know what Manchester United is, a footballing power. It'll be difficult for us, but also for them."