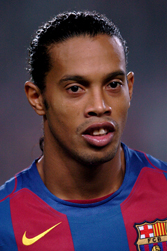 Jose Mourinho has denied that Chelsea will make a renewed bid for World Player of the Year Ronaldinho.
Chelsea are thought to have made at least one offer for him in the past 12 months.
However, Mourinho has informed the Brazilian's club Barcelona that the Premiership leaders will not be coming in for him this summer.
"Barca don't have to be afraid about that at all," said Mourinho.
"We will not be back for him
"The reason is we now have totally different qualities.
"Ronaldinho could play in any team in the world and there's no manager in the world so stupid as to say he wouldn't take him.
"The boy is absolutely fantastic.
"But it's a policy of building a team. Our team is still forming and developing.
"It is not a team which has found its full potential.
"We know very well what we need to improve the squad but I am very happy with what we have.
"I value the players who are already at Chelsea.
"Also, from an economic point of view, we're not going to spend, spend, spend every year and buy-and-sell, buy-and-sell, buy-and-sell every year.
"The time must come for stability.
"Barcelona will not release Ronaldinho, which is good because Barca need a player like him.
"I already have a full squad. The only one I am looking for is a left-back because we sold Celestine Babayaro.
"We only have Wayne Bridge and nobody else is naturally left-footed so I need another one."
Mourinho was speaking ahead of this week's epic Champions League encounter between the two clubs.
The Chelsea boss is familiar with Camp Nou havingworked there for four years under Sir Bobby Robson.
"I know the Camp Nou," Mourinho added.
"I'm not going to say we will score first. I'm not even going to say that we will score.
"This has extra-time at Stamford Bridge written all over it."