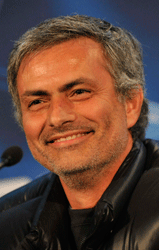 Can Liverpool overturn a 1-0 deficit in their Europa League 2nd leg against Atletico Madrid? Simon Hopper gives you the top football betting tips.
Jose Mourinho hailed his Inter side after they secured their place in the Champions League final by knocking out holders Barcelona.
Mourinho, who worked at Barca in the 1990s, led his side to a 3-2 aggregate win, despite losing the second leg 1-0.
Inter's task was made more difficult by following Thiago Motta's controversial first half dismissal, but a valiant rearguard effort by the Italian champions earned Inter their first final since 1972.
Although the Portuguese tactician has reaffirmed his dislike for Italian football, the ex-Chelsea boss has confirmed he will be staying on next season.
"I'd have to say right now that this is better than winning the Champions League," he told Rai tv. "Today it was a match in which I couldn't play, because I would have left my blood.
"For the players, me, the fans, it's the greatest. I've won the Champions League (with Porto in 2004) but today was better.
"It's been 38 years since Inter played in the final.
"We were a team of heroes, we sweated blood. I thank everyone who played and who did not play. I thank all the fans, those who were here and those who remained at home.
"Absolutely incredible things happened. Now is our festival. I want the fans at the airport waiting for these guys."
"Barcelona expected to win. They have had an incredible surprise at the San Siro. Then we understood they had fear.
"When Thiago Motta was sent off, we had to change the scheme again. Obviously to reach the final it was down to who wants it more.
"With Chelsea supporters I had empathy, but I have more of this with Inter's. I respect Italian football, but I'm not in love with it. In the difficult moments of the game I felt our supporters were there.
"I guarantee that next year I'll be here. I always play against Barcelona, and always something happens. It's nothing new for me. I want to see our supporters welcoming us at the airport.
"The refereeing? I don't want to judge. I said before the game that when players help the referee, it can have a positive reaction. When they make things difficult for him then there are problems, and this evening someone tried to complicate his job."
Inter president Massimo Moratti praised Mourinho's side for their disciplined performance.
"Let's give credit to the side. We played as 10 men for over 45 minutes," Moratti said.
"They showed big character. We are close to the three finals. We're in the Champions League final, the Coppa Italia, and then, for the Italian league, we are close to getting it. We'll see.
"We played with concentration, enthusiasm and desire and it's thanks to Mourinho, who is really great.
"I think we played in a really intelligent way. I hope all Inter supporters will be happy."
Make sure you don't miss any of the last news and articles from World Soccer. Subscribe to World Soccer today and take advantage of our all 50th anniversary offer, saving up to 50%!
Can Liverpool overturn a 1-0 deficit in their Europa League 2nd leg against Atletico Madrid? Simon Hopper gives you the top football betting tips.