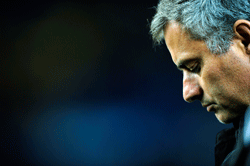 Save up to 33% on a subscription to World Soccer
Jose Mourinho has been hit with a five-game European ban by UEFA following his behaviour during and after Real Madrid's Champions League semi-final against Barcelona.
Mourinho has already served one game of the suspension after being sent to the stands in the first leg at Santiago Bernabeu, with a further match suspended for three years, meaning he will miss the first three games of Real's Champions League campaign next season.
The Portuguese was sent to the stands by referee Wolfgang Stark after sarcastically applauding the decision to dismiss midfielder Pepe for a challenge on Dani Alves.
After the match, Mourinho launched into a withering attack on UEFA, and suggested that the favourable decisions going the way of Barcelona were due to a conspiracy in favour of the Catalan outfit.
"It's clear that against Barcelona you have no chance," he said.
"I don't understand why. I don't know if it's the publicity of Unicef [the charity who provides the club's shirt sponsor].
"I don't know if it's the friendship of Spanish Football Federation president Angel Maria Villar at UEFA, where he is vice-president. I don't know if it's because they are very nice, but they've got this power.
"The rest of us have no chance."
Mourinho has also been fined €50,000, while Pepe was issued with a one-match ban, although this is deemed to have been served as he was suspended for the second leg at Camp Nou
Mourinho elected not to attend the clash at Camp Nou, watching the game on television from his Barcelona hotel.
Real, who were also fined €20,000 for the behaviour of their fans, immediately announced they would appeal.
The club said in a statement: "Real Madrid CF considers this resolution still suffers from the same defects found at the start of the disciplinary case, which made it impossible for our coach to use his right to defend himself, since the exact statements for which the disciplinary case was opened are still unknown.
"Real Madrid CF will appeal this decision before the UEFA appeals body."
Mourinho was previously banned from the touchline for two matches in 2005 for alleging then-Barcelona coach Frank Rijkaard had influenced referee Anders Frisk, while earlier this season he was banned for one match after appearing to instruct Real players Xabi Alonso and Sergio Ramos to be deliberately sent off.