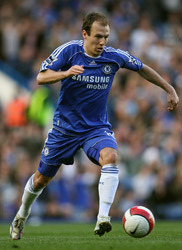 Chelsea manager Jose Mourinho has confirmed that he wants Arjen Robben to stay at the club.
Chelsea have flown out to America for a pre-season training camp and Dutch winger Robben has travelled – despite Real Madrid claiming they want to sign him.
The arrival at Stamford Bridge of French winger Florent Malouda earlier this week was seen by many as an indication that Chelsea were prepared to sell Robben, but Mourinho insists that the winger is still part of his plans.
"When you specifically talk about Arjen's name I want to make it very, very clear that the fact we have signed Malouda does not open the door for him to leave," Mourinho told Sky Sports News.
"I want to keep them both, and I would like to keep Arjen.
"He has two more years left on his contract with the club and as everyone knows Chelsea is in negotiation process with him to negotiate a new contract and hopefully we can do it and he stays."
Mourinho, who as well as Malouda has signed four other players this summer, admits he is happy with the strength of his squad.
"If last season was not a perfect season in terms of results we wanted, we know what problems we had, and we know them as individuals and this is the squad we believe in," he added.