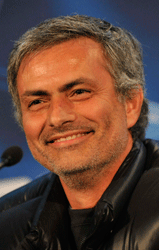 Real Madrid are now a best price 18/5 to win the Champions League after setting up a semi-final showdown with Real Madrid…
Jose Mourinho is looking forward to another meeting with Barcelona in the Champions League.
After wrapping up a 5-0 aggregate victory over Tottenham on Wednesday, the Real Madrid has boss moved closer to a third European crown, having previously claimed the trophy with Porto and Inter.
A tie with arch-rivals Barcelona awaits them in the semi-finals, and Mourinho has plenty previous experience of playing the Catalan outfit in this competition.
"I have to train with ten men, how to play with ten men," Mourinho told ITV on his plans for a meeting with Barcelona.
"I go there with Chelsea, I finish with ten. I go there with Inter, I finish with ten. I have to train to play with ten men because it can happen again."
Mourinho was happy to see Real finish the job off against Spurs in midweek, with most of the work having been done during a 4-0 first leg victory.
On Wednesday's showdown at White Hart Lane, which his side won courtesy of a Cristiano Ronaldo shot which squirmed through Heurelho Gomes' grasp.
"It was difficult. If they had scored in the first-half, it would have been even more difficult," he said.
Mourinho defended his selection, despite losing Ricardo Carvalho to suspension for the semi-final.
"I think I was right when I decided to play with a good team," he continued. "Tottenham had a couple of chances and of course 4-0 is a good difference but if they scored in the first half with an incredible crowd and a good team it could have be difficult."
"They played with a lot of pride, with great motivation and the public were fantastic in getting behind them. They gave us a very difficult match.
"Probably the result shouldn't have been our victory, I think a draw would have been fair and a good bonus for them after what they gave. It was difficult, but of course I am happy to be in the semis."
Manchester United and Schalke will contest the other semi-final and Mourinho admits he would relish the opportunity to test himself against Sir Alex Ferguson at Wembley.
"I expect Man U to be there, yes," he said.
"They are the better team. They have a different stature than Schalke at this level. But football is football and Sir Alex will tell his players that you have to respect opponents, even if you know that you are the best team.
"I hope Man United is at Wembley and if it is Man U against Real, that would be the perfect final for me."
Real Madrid are now a best price 18/5 to win the Champions League after setting up a semi-final showdown with Real Madrid…