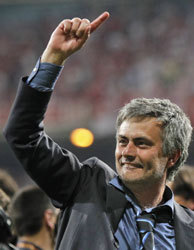 England will warm-up for the World Cup with a friendly against Mexico at Wembley on Monday, BestPrice betting here.
Inter coach Jose Mourinho is expected to join Real Madrid as he prepares to leave Italy after winning the Champions League.
Mourinho became only the third manager to win the trophy with two different clubs after two goals from Diego Milito saw off Bayern Munich 2-0 at the Bernabeu.
And with an approach from Madrid imminent, Mourinho spoke of his sadness at managing his final match with Inter.
"(It's) an incredible season," he told Sky Sports. "At this moment there is not many words to describe how I feel because I am so happy, so proud. At the same time I am so sad because, almost for sure, (this) is my last game with Inter.
"Inter is my house, the same way Chelsea is my house. It was difficult to leave Chelsea – if I leave Inter it is difficult to leave. But that's life, that's football.
"After Chelsea I thought it would be impossible to have the same kind of relationship with supporters. I have two houses – Stamford Bride and San Siro and a third house, probably Santiago Bernabeu."
When asked about the Real Madrid job, Mourinho responded: "It is the only club that wants me."
The former Chelsea manager said he would like a return to England in the future, where he won six trophies in three years with the Stamford Bridge side.
He went on: "No, I don't have a choice (of clubs). But Real Madrid is Real Madrid. Everyone knows English football is my passion and I go back to England once.
"But I think a big player, a big coach – if you don't go to Real Madrid, or if you don't play for Real Madrid – you have always a little space on your career. So if I decide to come to Real Madrid I will be a very proud man.
"It (the project at Inter) is done yes, but I don't know. That's why I don't want to speak with the players (in case) they change my decision or they make me cry and think a different way.
"I believe my target now is to win a championship I have not won yet and a Champions League with a third club. And one day I come back to England."
Mourinho's is expected to open talks with Real president Florentino Perez within the next few days.
"The day after tomorrow (Monday) I will speak to him," he said. "I don't know the project yet, so I have to hear the project, but at the moment I am not to coach of Real Madrid. I am coach of Inter and a very proud coach of Inter."
The Portuguese, who has bveen criticised in some quarters for embracing a negative style of play, defended his choice of tactics.
He added: "When a team is a slow team – because we are a team of not very fast players – you have to play as a block, you have to be compact.
"You must play in a certain way. I think a great team is a team that plays with the real qualities that we have.
"With these qualities we beat the champions of Europe, we beat the champion of England, we beat the champion of Germany, we won the Champions League and we won the Treble."
England will warm-up for the World Cup with a friendly against Mexico at Wembley on Monday, BestPrice betting here.
Make sure you don't miss any of the last news and articles from World Soccer. Subscribe to World Soccer today and take advantage of our all 50th anniversary offer, saving up to 50%!